Pyrophyllite Powder/Lumps
We are manufacturers of best quality Pyrophyllite powder from the best of our mining resources in India which can be used for various industries like refractories, ceramic, paints, rubber and plastic industries. Our Pyrophyllite powder contains high allumina content with low PH and high whiteness. Our Pyrophyllite lumps are available in green ,red,pale green ,orange,translucent with hardness around 2.5 to 3 which is very good for carving . Our pyrophyllite is available from 20kg to 150 ks block size which are selected from best minning resources in india .

Pyrophyllite is a secondary mineral of composition Al2O3 4 SiO2 H2O. Pyrophyllite that we provide to the clients is properly tested and free from impurities. Brightness of pyrophyllite plays a key role in describing the utility and value of Pyrophyllite in different industries. The presence of quartz and colored minerals such as iron-oxide-hydroxide, opaque, chlorite, and miraculous minerals decreases the overall brightness of the material. We efficiently supply Pyrophyllite Powder with 88% to 94% brightness of 200/300/400/500/700 meshes.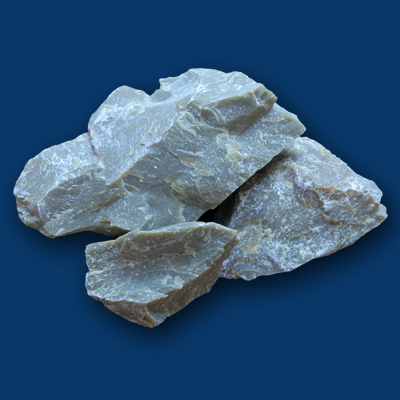 Information Table
Properties

Pyrophyllite Lumps

Pyrophyllite Powder
---
Properties : Raw Pyrophyllite
Silica : 58.70%
Alumina : 31.40%
Ferric Oxide : 1%
Titania : 0.80%
---
Pyrophyllite Lumps
Pyrophyllite Lumps are harder in form. Pyrophyllite never fluxes when fired. Therefore, it is used in high-grade ceramic products, electric insulators and refractories. Pyrophyllite also imparts thermal shock resistance to ceramic bodies and also used as filler and dusting powder in various industries. Pyrophyllite is used instead of feldspar as a source of aluminum in glass industry. It is soft and used extensively in handicraft industries in making of articles.
Advantages:
Low thermal expansion and shrinkage
Faster firing cycles in the manufacture of white ware
More mechanical strength
In production of stoneware and chinaware
Improved whiteness
Lower firing temperature
Consumed in refractory
Used in wall tiles
In sanitary ware
Electrical porcelain
Other ceramic
Vitreous china products
---
Pyrophyllite Powder :
Pyrophyllite Powder can be collected in fine powdered form that looks like talc but it is unlike talc. We efficiently supply Pyrophyllite Powder to you as per your requirement providing different specifications.
Used For:
Manufacturing refractory materials
Ceramic materials
Filler of paper
Rubber
Coating
Cosmetic
Agricultural insecticide
Glass fiber
Carving and signets
---
Available in :
100 mesh to 250 mesh
Packing :
In bulk