China Clay Powder
We are well reckoned as one of the prominent China clay powder manufacturers and exporters from India. Our Chinese clay is in high demand due to its high authenticity and long lasting life. We are exporting China clay and washing plant raw materials all across the globe. We are maintaining our quality to compete with other companies in the international market. We are committed towards delivering high quality products to all our clients; thereby we have adopted a rigorous quality policy in our manufacturing unit. We ascertain high quality in our products with the assistance of our experts in the quality department. They endeavor to check each stage of production so that our product quality matches the international standard of quality. Our China clay lumbs encompasses of brilliant quality and excellent performance. Translucent quality, greater strength and bright white appearance are the unique features of our China clay lumbs. Our Chinese clay is accessible at the least market prices.
China Clay is also called "KAOLINE", it is one of the essential Raw material for Ceramic Industries, China Clay does not swell on adding water & Alumina present in Clay do not form Isomorphous series with any other metallic compound. China Clay is a naturally hydrated Aluminum Silicate. It is one of the most abundantly available clay in the Earth's crust. A large variety of china clay is mined all over India.
China Clay is the heart of potteries, tiles, ceramics, and many other industries.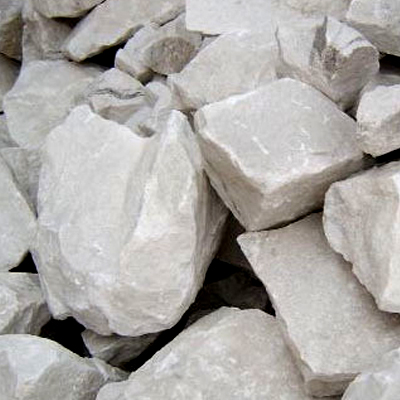 ---
Chemical Formula : Al2O3 , 2SiO2, 2H2O
Information Table
Physical Properties

Chemical Composition

Applications
---
Physical Properties of China Clay :
| | | |
| --- | --- | --- |
| | Results of Analysis | Percentage |
| 1 | Oil absorption | 30.70 |
| 2 | Acid soluble matter | 4.97 |
| 3 | PH of 10% solution | 8.32 |
| 4 | Specific gravity | 2.52 |
| 5 | Whiteness by reflection compared with MgO taken as 100 % | 87.00 |
| 6 | Material retained on 300 mesh BS sieve (wet) | 1.00 |
| 7 | Material retained on 400 mesh BS sieve (wet) | 3.2 |
| 8 | Bulk density | 0.52 gms/ml |
---
Chemical Composition of China Clay Powder :
Results of Analysis
Percentage
SiO2
Silica
49.03
Al2O3
Alumina
32.22
Fe2O3
Ferric Oxide
0.85
TiO2
Titanium Oxide
1.34
MnO
Manganese Oxide
Nil
MgO
Magnesium oxide
0.65
CaO
Calcium Oxide
1.36
Na2O
Sodium Oxide
0.64
K2O
Potassium Oxide
0.34
LOI
Loss on ignition
13.55
---
Applications :
Application
1
Paints

China Clay is used in wide varieties of paints like distemper, cement primer, wood
primer, emulsion paint, texture coating, spray plaster, putties, fillers and undercoats.

2
Paper

It is used in varieties of papers, cardboards, hard boards and others.

3
Plastic

It is used as a filler in combination with others to impart strength and smoothness.

4
Electrical Industry

It is used for electrical insulation, high voltage insulation compounds electrical wires.

5
Cosmetic & Soap

China Clay is used in toothpaste, cosmetic and soap industry.